Universidad Católica San Antonio de Murcia
Home ›
Spain ›
Universidad Católica San Antonio de Murcia
The Catholic University San Antonio - UCAM, as a Catholic University, is characterized by offering its students an integral formation, based on the theoretical and technical knowledge specific to each degree plus human formation anchored in the principles of Christian humanism, to this work is They dedicate a faculty of recognized prestige and a team of personal tutors, who monitor the student from the beginning of their studies to the end, with the aim of providing tools that improve their performance and at the same time strengthen their human formation.
Our objective is to train professionals capable of transforming society, smoothing inequalities and promoting improvements that allow the creation of a more just world, respecting the dignity of people from conception to natural death.
The UCAM has bet from its inception for teaching and research quality , developing and applying active teaching-learning methodologies: small groups, tutoring, teamwork, internships in all degrees, end-of-degree work, incorporation of new technologies, network WIFI throughout the campus, virtual platform, numerous computer stations for use by students ... all this has allowed us a quick adaptation to the European Higher Education Area, without trauma, both by teachers and students.
In this line, the UCAM has obtained the Verification by ANECA and the Ministry of 23 degrees and also offers more than thirty official Master and Doctorate programs . At present the process of implementation of the degrees is a reality, eight degrees have started the process with favorable results. This is the result of work, effort and an exercise of responsibility of a highly qualified and specialized faculty, both in academic and research tasks, as endorsed by the high number of professors doctors and the large number of research lines.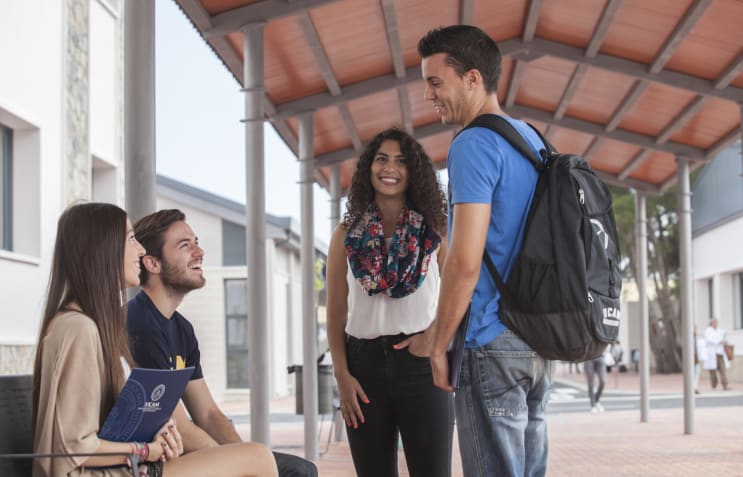 Another of our differential features is
internationalization
, a key aspect in a globalized world, we have collaboration agreements around the world, with prestigious universities such as Berkeley, Chicago, Bologna ... for the training of our students and the specialization of our teachers .
To this it is necessary to point as significant, the effort made by the Catholic University of San Antonio to increase the data on labor insertion , whose high rate is also fruitful of the work of the technicians of our Service of Orientation and Labor Insertion.
From the Universidad Católica San Antonio we work for and for the students, they are people, with name and history, our desire is to contribute to the personal and professional success of all those who participate in this project from the principles on which this Institution is supported .
Locations
Murcia
Address
San Antonio de Murcia
Campus de los Jerónimos,
Guadalupe
30107
Murcia
,
Region of Murcia
,
Spain