Indian Technical Institute - Management Educational Trainings (ITI MET) and Goa Swiss Institute of Hotel Management (GSIHM)
Home ›
India ›
Indian Technical Institute - Management Educational Trainings (ITI MET) and Goa Swiss Institute of Hotel Management (GSIHM)
Indian Technical Institute - Management Educational Trainings (ITI MET) and Goa Swiss Institute of Hotel Management (GSIHM) is to provide education and career opportunities for Indian and international students in Business Management, Hospitality Management, Yoga & Naturopathy, Fashion & Design programs in Goa and Mumbai, India.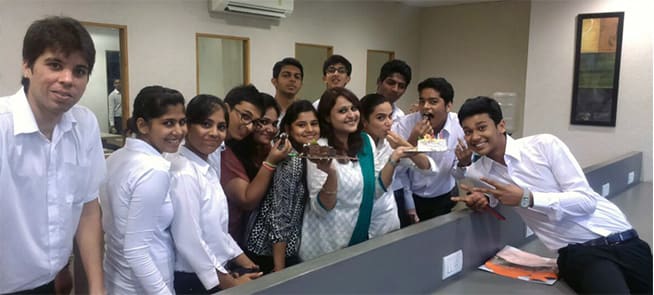 From 6 months - Certificate, 1 or 2 years - Diploma, Bachelors, to Masters and PG Degree, the institute has everything to offer. What separates our institute from the rest is the importance we give to practical training along with maintaining the standards of theoretical academics. We have a 20%-80% theory to the practical system, where the students are enrolled in the theoretical study for a semester and Industrial internships in the other. The system applies to all course and all years of study. GSIHM has more than 40 years' experience in India in the field of student and corporate training. Institute Director, Mr. Vijay Mandhyan is to bring a change in the educational system by emphasizing more on practical knowledge and experience on the job training. 'Action makes a habit, habit makes behavior'.
Programs & Courses
We offer certificates (3 or 6 months), diploma (1 or 2 years) and degree courses in:
Business Management: Human Resource, Finance, Information Technology, Marketing & Sales, Banking Operations, Retail Management, Project Management, Total Quality Management, Production and Operation Management, Entrepreneurship.
Hospitality Management: Hotel, Event Business Management & Catering Operations, Restaurant Business Management, Tourist & Travel Business Management, Cruise Line Management & shipping, Front-Office, Food and Beverage, Accommodation, Housekeeping, Principles of Management.
Fashion & Interior Designing: Fashion & Principals of Design, Advanced Elements of Textile Science, Design Development & Color Concept, Retail Marketing & Merchandising, Design Collection and Presentation, Garment Processing, Construction, Computer Designing.
Yoga & Naturopathy: holistic and traditional education from India, Yoga Sutra, Asanas, Pranayamas, Yoga Kriyas, Hatha Yoga Pradipika, Yoga Vasistha, Ayurveda, Panchakarma, Naturopathy, Counseling, Public Speaking, Methodology of Teaching, Practice Teaching, Essential Anatomy & Physiology, and Philosophy.
We welcome students both for undergraduate (Bachelor) and postgraduates (PG, Master, MBA) levels and programs. We provide internationally recognized and authorized by Government of India diploma from the State Open Universities. Students experience working in the international team and challenges of the multicultural communications. The professional team of Indian and international teachers performs academic program combined with an internship in the five-star hotels. The institute is based in Mumbai and Goa, India, one of the biggest tourist attractions in the world itself explains how relevant we are to what we teach. With an increasing international tourist inflow in Goa, the institute takes up the initiative to expand its course availability to international students.
Goa Campus
Classes in the five-star hotel facilities, personalized service and intensive academic support both from the Indian and international staff is to maximize the learning experience. We are targeting the personal attention to each student, thanks to an individual approach and small class sizes.
Mumbai Campus
Mumbai campus offers leveraged opportunities and great facilities like well-equipped kitchen, modern restaurant, well-stocked library, housekeeping lab, bakery and confectionary, computer lab.
What We Offer to Our Students
An affordable education, with fees less than anywhere in the world which offer similar education.
An English medium of instruction, making it comparable to studying in the US or UK.
A place with a very big international tourist market, hence opening up employment opportunities.
Industrial internships in the top hotels included in the curriculum every year.
An experience in an exotic location which makes studying more pleasurable.
Locations
Mumbai
Goa Swiss Institute of Hotel Management
Address
RTO Road, Andheri West, Mumbai-400053
400053
Mumbai
,
Maharashtra
,
India
Panaji
Address
Velho Building, Opp. Municipal Garden, Panjim
Panaji
,
Goa
,
India
Saint Petersburg
Address
Saint Petersburg
,
Sankt-Peterburg
,
Russia
Programs
This school also offers: