Bachelor in
Bachelor in Biology
University of St. Francis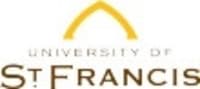 Scholarships
Explore scholarship opportunities to help fund your studies
Introduction
Students in U.S.F.'s biology program don't just study science, they DO science.
Hands-on learning tools and experience prepare students for a myriad of different careers —cadaver dissection; assisting faculty in research projects; classes and internships at nationally acclaimed research facilities are just some of the ways you will DO science at the University of St. Francis. Also, our Biology and Environmental Science Fellows Program represents a unique opportunity to get involved in the science activity at U.S.F. Many students present their research and local and national meetings such as the Associated Colleges of the Chicagoland Area Student Symposium held every year.
U.S.F. has teamed up with Argonne National Laboratory, Fermi Lab, the Shedd Aquarium and the Morton Arboretum to provide its students with true-life learning experiences in labs with advanced instrumentation.
At Midewin National Tallgrass Prairie, students conduct field research at one of the largest prairie restoration projects ever undertaken. Botany, Ecology and Environmental Science courses also use field sites for their learning experiences.
You will quickly get the feel of what it's like to be effective in a real laboratory. U.S.F. lab equipment is the same as what professional scientists use. U.S.F.'s Biology and Chemistry labs are fitted with the latest equipment and the students are encouraged to use our instrumentation and facilities in classroom and independent projects.
Collecting, analyzing and synthesizing data. Discovering how living things work and interact. Designing experiments. Challenge yourself in this comprehensive, intensive program guided by faculty committed to student success.
Supporting Science LEARNING, not just TEACHING
The Natural Science faculty is committed to the success of our science students. The Kirk Center for the Natural Sciences represents a unique learning environment where students interact formally and informally with faculty. In addition, our science tutoring and supplemental instruction program are wonderful opportunities for students to get involved in their own learning, whether they attend tutoring or are themselves the tutors! Finally, many of our facilities are available to students at almost any hour of the day so that students can study on their own or in groups - so students have the time to put extra study time in on that anatomy model of the ear or study bacteria under the microscope.
English Language Requirements
Certify your English proficiency with the Duolingo English Test! The DET is a convenient, fast, and affordable online English test accepted by over 4,000 universities (like this one) around the world.