BSc in
Biology BSc
University of Nyiregyhaza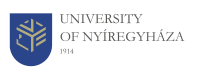 Introduction
Our aim is to train our students to become specialists who are able to analyze the most important relationships in biology, who know the most important research methods in this field, and who are able to plan, solve and evaluate biological tasks.
Specialization
Applied Biology Operator.
Curriculum
Major courses
Plant Anatomy
Animal Anatomy
Plant Taxonomy
Animal Taxonomy
Cell Biology
Microbiology
Plant Physiology
Biochemistry
Hydrobiology
Ecology
Biogeography
Animal Physiology
Environmental Protection
Molecular Biology
Behavioral Ecology
Experimental Aquatic Ecology
Instrumental Organochemical Analysis
Field Botany
Nature Conservation
Evolutionary Biology and Population Genetics
Human Biology
Genetics
Soil Ecology
BiodiversityMonitoring
Research Design
Career Opportunities
With the help of the knowledge that the students acquire at our institute, they are able to find jobs in a wide variety of fields: health, food, plant protection, pharmaceutical, environmental and quality control laboratories, national parks, conservation organizations, environmental and water laboratories.