BSc in
Bachelor of Science in International Economics and Finance
University Bocconi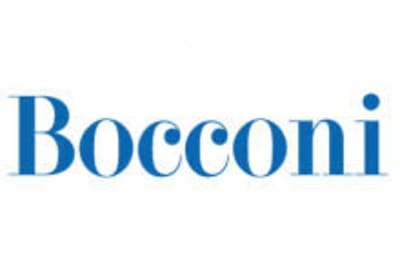 ---
Campus location
Milan, Italy
Tuition fees
EUR 12,689 / per year *
Application deadline
Request info
Earliest start date
Request info
* *subject to adjustment
Scholarships
Explore scholarship opportunities to help fund your studies
Introduction
The program trains the future generation of economic and financial experts, who can adapt to an environment that is constantly subject to change, in order to perfect their inclination towards a global thinking perspective.
You will understand and analyze economic and financial phenomena from an international perspective and get a solid education built on rigorous quantitative and qualitative tools.
You can choose between two majors. In the Economics major, a sound methodological background gives you the tools to understand a large set of issues: the effects of globalization, the role of central banks and monetary policy, competition policy, the functioning of the labor market, how to spur development of poor countries, the link between political institutions and economic outcomes.
In the Finance major, you are exposed to a large set of topics related to the functioning of modern financial systems: capital markets, financial intermediaries, financial contracts and instruments. Principles and applications of corporate finance techniques are all studied and discussed from a global perspective.
Program Structure
First Year
Main topics
Management
Economics (micro and macro)
Math
Legal Methods (basics)
First foreign language
Computer science
Critical thinking seminar
The first three semesters introduce the fundamental notions and concepts of management, economics, quantitative methods, accounting, finance, and commercial law, with a clear focus on the international aspects of each of them.
During the first year, you will be given rigorous training in several basic subjects in order to understand, from an international perspective, how companies and organizations work and how they are structured (functions, processes, activities).
Economics describes the functioning of economic systems both at an overall level (macroeconomics) and at the level of the individual behavior of firms and consumers (microeconomics). Through math, you'll be provided with the quantitative tools to understand and apply an array of economic models.
Finally, you will be offered an overview of the fundamentals of civil law (property interests, contract law, tort law, and insurance law) in both a domestic and a broader European context.

Second Year
Main topics
Accounting and Finance
Economic History
Statistics
Financial Markets
Economics: Markets and Antitrust; Labor and Political Economics
Finance: Corporate Finance and Government; Financial Intermediation; Asset Pricing
Second foreign language
Soft skills seminar
In the first semester, you'll learn more about the main topics related to economics and management, while in the second semester you can choose between the major in Economics and the major in Finance.
Teaching in the core courses focuses on issues related to the internationalization of businesses and financial institutions, the international economy, comparative European and international commercial law. You will learn to use quantitative and qualitative tools to perform comparative studies.
You'll also attend a seminar aimed at improving your leadership and managerial skills.

Third Year
Main topics
Major compulsories
Empirical Methods (econometrics)
European Law
Macroeconomics (major in Economics)
Business Strategy (major in Finance)
Exchange program
Internship
Final report
The third part of the program is made up of courses within the chosen major, as well as 2 elective courses.
You have the opportunity to further boost the international profile of your education by studying at leading universities abroad and/or by undertaking internships in Italy or abroad. Internships, exchange programs, and innovative teaching methods enable you to sharpen your problem-solving approach and develop lateral thinking skills.
Program requirements are subject to change.

International Opportunities
Studying abroad can be a great opportunity for growth both academically and personally, allowing you to challenge yourself in a multicultural environment. The Exchange Program gives you the chance to spend one semester abroad at a partner university, starting in your Bachelor of Science program.
Exchange Programs
One-semester programs with prestigious partner universities, including:
Economics Field of Study
Princeton University, Department of Economics (USA)
Northwestern University, Department of Economics (USA)
Université Toulouse 1 Capitole, Toulouse School of Economics (France)
Yale-NUS College (Singapore)
University of Sydney, School of Economics (Australia)
Finance Field of Study
University of Pennsylvania, Wharton School (USA)
New York University, Stern School of Business (USA)
University of St. Gallen (Switzerland)
Korea University, Business School (Korea)
University of Sydney (Australia)

Career Opportunities
The majority of graduates in International Economics and Finance continue their education at the graduate level; graduates may also have direct access to the labor market.
A career in the field of finance typically means working in a bank, a financial institution, a consultancy firm, a financial authority or a fund, or companies of other kinds within the financial/administrative realm.
Finance majors may work in junior positions as a financial analyst or as an interface with customers as well as junior positions in companies working in Finance or related functions that involve international and multicultural work teams.
Economics majors may work in junior positions at supranational institutions, research organizations or companies /private or public institutions, middle-large size companies analyzing the economic system particularly supranational and international issues or at companies with a global outlook that deal with external authorities with reference to international issues (intellectual property, antitrust, etc.).
Admission
Every year, Bocconi University selects the best candidates and sets a number of students who can be admitted to its programs in order to guarantee the best welcoming conditions and success in the academic path and to facilitate the entrance of our Graduates in the professional world.
Usually, a total of 2700 places are available for Bachelor of Science and Integrated Master of Arts in Law programs' first-year students. Classes are made up of approximately 100 students for BSc programs taught in English and approximately 120 students for BSc programs taught in Italian. The Integrated Master of Arts in Law classes (taught in Italian only) are made up of around 140 students.