BSc in
Bachelor+Master in Agro, Food & Environment Engineering
UniLaSalle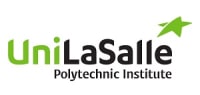 Introduction
Become an international expert in Life Sciences based on French know-how
1st Engineering programme in Life Sciences in France taught 100% in English
Do you want to pursue an international career and contribute to solving the major challenges of the planet?
The Agro, Food & Environment Engineering programme is :
A curriculum 100% in English leading to an engineering degree;
Develop highly sustainable agriculture; create innovative agri-food products; preserve natural resources; manage companies by integrating Corporate Social Responsibility;
An innovative pedagogy (seminar, reverse class, workshop, field and especially learning by searching and doing!) and small classes;
Dedicated infrastructures: experimental greenhouses, high-tech laboratories, innovation center (AgroRtech, AgriLab), experimental modules (Vertical Farming, FarmBot, Aquaponie...).
4 study trips in the preparatory cycle, multiple international mobility in the engineering cycle and the possibility of a double degree.
52 weeks of internships and simulations
"This programme offers a real opening to the international. In the globalized world in which we live, it is more than important to develop these perspectives and to work together to solve the major issues we all face. It is extremely interesting to master fields such as agriculture, agronomy, sustainable development and even entrepreneurship on a French scale. However, it is an undeniable bonus to add international know-how, and techniques developed in the four corners of the world in order to to think about effective solutions" Jana KHALIL, Student Year 4 .
Key Informations
Duration of training: 5 years
Teaching in English
Recruitment from High School or Bachelor
Location : Rouen (1h from Paris)
Engineering degree in Agronomy and Agro-industries accredited by the Commission des Titres d'Ingénieur (CTI), Master's degree and European EUR-ACE® label until 2024-25
Scholarship from 10 to 75%
Curriculum
Innovative Pedagogy
Small classes
Learning by doing
Learning by searching
Technology for Sustainability
AgLab incubator
Experimental farm
Greenhouse
Culinary lab
Pure and applied sciences for sustainability
Study of living systems
Entrepreneurship & Innovation
Food systems & Quality
Information Systems & Digital Transformation
Bio-resource management
International Trade & Business Administration
Social Skills