Bachelor in
Bachelor in Biology
Slippery Rock University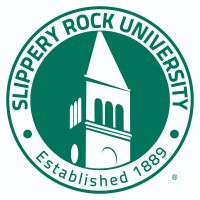 Introduction
Biology is the study of living organisms, focusing on the structure and development of life and evolutionary processes. In SRU's Biology program, you'll learn about living systems in the classroom, laboratory, and field. You'll develop important analytical and critical thinking skills, and gain vital research and collaboration experience. SRU offers both Bachelor of Arts and Bachelor of Sciences degrees in Biology, as well as a minor in Biology.

Career Opportunities
Careers in Biology
Graduates of SRU's Biology program go on to a diverse range of careers, such as:
Biochemist
Biological Technician
Chiropractor
Dentist
Genetic Counselor
Health Communications Specialist
Health Educator
Medical and Health Services Manager
Pharmaceutical / Medical Product Sales Rep
Physician's Assistant and Nurse Practitioner
Careers in Medicine
This program prepares graduates to practice medicine throughout the United States and Canada. You may have a private practice or you may find yourself in a team of healthcare providers.

Curriculum
Why Choose Biology?
If you have a passion for nature, research, and learning about different life systems, the Biology program at SRU is for you. This major offers a flexible course selection, enabling you to pursue your individual interests.
SRU also offers several Biology degree-plus options with affiliated schools-facilitating a smooth transition to graduate degrees. These include:
Chiropractic at Logan University and Palmer College of Chiropractic
Dental Early Admission Program (DEAP)
Dentistry at the LECOM School of Dental Medicine (Bradenton, FL campus) and West Virginia School of Dentistry
Osteopathic Medicine at Lake Erie College of Osteopathic Medicine (LECOM)
The pharmacy at the LECOM School of Pharmacy
Physical Therapy at SRU
Physician Assistant Studies at Chatham University
What Will You Learn?
You'll receive training in both basic and advanced biological concepts. Through class discussions, laboratory experiments, and fieldwork, you'll learn about different areas of biology such as:
Animal and plant physiology
Botany
Cellular biology
Ecology
Genetics
Microbiology
Molecular biology
Vertebrate and plant anatomy
Zoology
Biology: Pre-Medicine 4+4 track
Start your journey to becoming a medical doctor at SRU. The Bachelor of Science (BS) in Biology - American University of Antigua (AUA) College of Medicine 4+4 program allows biology majors who have completed specific coursework the opportunity to apply for admission to the Doctor of Medicine program. The requirements for this program are established by AUA and may be found with their listed entrance requirements. In the AUA College of Medicine 4+4 program, students complete the undergraduate biology program at Slippery Rock University before continuing on to the four-year medical school program at AUA.

English Language Requirements
Certify your English proficiency with the Duolingo English Test! The DET is a convenient, fast, and affordable online English test accepted by over 4,000 universities (like this one) around the world.