BSc in
BS in Biology
Siena Heights University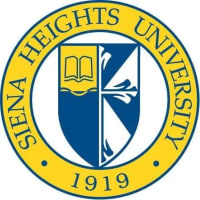 Introduction
At Siena Heights, you are part of an extended family that meets regularly inside and outside of the classroom. In addition to hands-on collaborative learning, students also gather regularly for field trips, special lectures, community projects, or simply to study.
Working with faculty mentors, students conduct meaningful field and/or lab research with data analysis. Siena Heights University biology students have won numerous national research awards over the past few years.
SHU biology graduates have a 95 percent acceptance rate into medical, chiropractic, podiatric, veterinary, and graduate school.
The Biology department offers its students unique and distinguishing opportunities:
As early as freshman year, Siena Heights University students can gain early acceptance into medical, dental, or pharmacy school at the Lake Erie College of Osteopathic Medicine.
In partnership with the Adrian Dominican Sisters, biology students explore a 7-acre field site to learn permaculture (permanent-agriculture), an ethical design system for land use that emphasizes sustainability, integration, and cooperation with natural systems.
First-year students can join faculty-led research teams, such as our Sustainability Tracking, Assessment, and Rating System (STARS) group research project.
Where your educational journey leads you depends in part on where you start. In the Biology department, our approach to education, which combines a supportive community learning environment with a broad spectrum of challenging courses, in-depth lab, and field experiences, and intensive research projects, has successfully prepared our graduates for their future careers.
Fast Fact
Successful high school graduates entering SHU who satisfy Lake Erie College of Osteopathic Medicine's admission criteria will be offered a provisional acceptance to LECOM's Doctor of Osteopathic Medicine, School of Dental Medicine, or School of Pharmacy program. After graduation from SHU, the student will then matriculate to LECOM.
Program Distinctions
The biology curriculum includes innovative and engaging coursework, including ecological kayaking trips on Cedar Lake and hikes through 400-year-old Gall Woods Old Growth Forest, and is led by outstanding professors such as three-time Rice Outstanding Teaching Award-winner Dr. Carl Kaster.
The biology program offers its majors select opportunities through its affiliated partners, including early acceptance into Lake Erie College of Osteopathic Medicine's medical, dental, or pharmacy schools. Finally, majors can study sustainable agricultural practices at the Adrian Dominican Sisters' permaculture site.
Working with faculty mentors, students can conduct scientific research and data analysis. SHU biology students include 29 TriBeta regional award winners and two national research champions.
Scholarships and Funding
Did you know that approximately 90 percent of undergraduate students on the Adrian campus receive some form of financial assistance? Our admissions counselors and financial aid experts are committed to helping you find the best financial solutions for your education. Siena offers a wide range of opportunities that may be right for you, including:
Academic scholarships
Arts scholarships
Athletic scholarships
Campus Ministry scholarships
Grants
Work-study programs
Federal loans
Your university financial aid package may include some or all of the above, resulting in a customized plan that makes Siena Heights University affordable for your family.
Curriculum
Course Requirements for Major
Program Requirements: 35-36 Credit Hours
BIO 141 Basic Concepts Of The Cell 4 credit hours
BIO 241 Animal Biology 4 credit hours
BIO 242 Plant Biology 4 credit hours
BIO 342 Genetics 4 credit hours
BIO Approved Electives 15-16 credit hours
BIO 395 Junior Seminar I 1 credit hours
BIO 396 Junior Seminar II 1 credit hours
BIO 495 Senior Seminar I 1 credit hours
BIO 496 Senior Seminar II 1 credit hours
Cognate Requirements: 37 credit hours
CHE 141 General Chemistry I 4 credit hours
CHE 142 General Chemistry II 4 credit hours
CHE 241 Organic Chemistry I 4 credit hours
CHE 242 Organic Chemistry II 4 credit hours
MAT 159 Precalculus 4 credit hours
or
MAT 181 Calculus With Analytic Geometry I 4 credit hours
MAT 174 Data Analysis And Statistics 3 credit hours
MAT 244 Statistical Analysis And Design 3 credit hours
PHY 141 General Physics I (Non-Calculus Based) 4 credit hours
or
PHY 161 Physics I (Calculus Based) 4 credit hours
PHY 142 General Physics II (Non-Calculus Based) 4 credit hours
or
PHY 162 Physics II (Calculus Based) 4 credit hours
TSD 101 Fundamentals Of Speech Communication 3 credit hours
Total for Major: 72-73 Credit Hours
Liberal Arts: 28 Credit Hours
General Electives: 19-20 Credit Hours
Total for Degree: 120 Credit Hours
Other Requirements
Students majoring in Biology must maintain a 2.1 g.p.a. in all required courses (excluding cognate requirements) in the major.
Biology majors must complete a 16-hour residency at Siena Heights, 12 credit hours of Siena Heights biology courses at the 300-level or higher, and the Junior and Senior Seminar series (BIO 395/BIO 396/BIO 495/BIO 496).
Students who are seeking teacher certification must take BIO 441 or BIO 443 as one of the four required Biology electives.
Students seeking teacher certification must also complete the appropriate science methods course: NSC 373 Science Methods from the Professional Education Sequence.
Students seeking secondary certification in teaching must also take NSC 110 Earth Science.
Career Opportunities
Internships
Siena Heights University biology students are eligible for hundreds of paid research internships supported by the National Science Foundation. These summer research opportunities allow small groups of students to work in research programs at various host institutions.
Siena Heights University biology majors have interned at the University of Wisconsin-Madison, Colorado State University, and Indiana University, for instance. Students are granted stipends and, in many cases, assistance with housing and travel. Local internships and co-ops are also possible.
Former SHU biology students Maria Butler and Joseph Lemanski were awarded summer research internships. Butler conducted her research in Turkey studying the responses of the European honeybees to different odors, including alcohol. Lemanski spent his summer in Texas examining the effects of the 2010 British Petroleum oil spill on the deep-water organisms in the Gulf of Mexico.
Career Opportunities
Careers related to biology include:
Anatomist
Animal behaviorist
Biochemist
Cell biologist
Chiropractor
College professor
Dentist
Ecologist
Editor of scientific publications
Entomologist
Environmental biologist
Evolutionary biologist
Forester
Geneticist
High school teacher
Limnologist
Marine biologist

Microbiologist
Molecular biologist
Optometrist
Osteopath
Pharmacist
Physical therapist
Physician
Physiologist
Plant biologist
Podiatrist
Science writer
Toxicologist
Veterinarian
Virologist
Wildlife biologist
Zoologist