BSc in
Bachelor of Science in Biology
Saint Francis University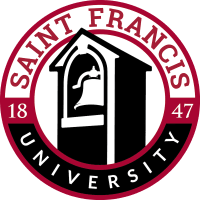 Introduction
Biology is the study of life in all of its variety and complexity. Biologists approach the study of life at levels ranging from molecular biology and physiology to ecology and evolution. Students of biology must each find the unique niche within this diverse field that best suits her or his passions.
Why Biology at SFU?
Students First. The Biology Program at SFU is designed with the uniqueness of each student in mind. Our department provides customizable degree programs and personal academic advising by biology faculty.
Small Class Sizes, a tight-knit community of students, and opportunities for students to engage in novel research with faculty mentors.
High Success Rates. Many of our graduates go on to graduate schools and professional schools, while others use their bachelor degree to pursue careers in research, education, wildlife management, medical laboratories, as well as aquaria and zoos.
Why Study Biology?
Biologists are inquisitive professionals who seek to learn about the nature of life. Do you enjoy learning about animals or plants? Do you wonder how organisms in the field interact with their neighbors and their surroundings? Do you want to use hi-tech laboratory equipment to learn about the world of molecules and cells that lie within each us? Do you love all of the sciences? Biologists use tools from physics, chemistry, psychology, and even economics when trying to explain and understand the structure and function of living things.
Career Opportunities
"What can I do with a degree in Biology?"
Biology is a diverse field of study, with a wide range of career opportunities. Below is a sampling of career options that our students have pursued.
Qualifications
Students with a B.S. in Biology are qualified to work as laboratory technicians, assistants, or technologists. These jobs can pay well and offer excellent stability, particularly in industry.
A Master's degree will allow more oversight and control, greater competitiveness for positions, and an increased range of career options
A Ph.D., as well as post-doctoral training, is typically required for high-level research positions in industry or academics.
Some of the graduates schools our alumni have attended
Case Western Reserve University
Drexel University
Indiana University of Pennsylvania
George Mason University
Georgetown University
Mississippi State University
Nicholls State University
Penn State University
Shippensburg University
University of California, Davis
University of Missouri-St. Louis
West Virginia University
Healthcare
Professional Schools that our students have attended in recent years.
Medicine
The Commonwealth Medical College
Edward Via College of Osteopathic Medicine
Griffith University School of Medicine, Australia
Kentucky College of Osteopathic Medicine
Lake Erie College of Osteopathic Medicine
Nova Southeastern College of Osteopathic Medicine
Penn State College of Medicine, Hershey
Philadelphia College of Osteopathic Medicine
Temple University
University of Queensland School of Medicine, Australia
West Virginia School of Osteopathic Medicine
Dentistry
Optometry
Salus University, Pennsylvania College of Optometry
Pharmacy
Lake Erie College of Osteopathic Medicine
Mylan School of Pharmacy, Duquesne University
School of Pharmacy, University of Charleston
Podiatry
Kent State University College of Podiatric Medicine
Veterinary Medicine
Ohio State University
Iowa State University
Medical Laboratory Science
Conemaugh School of Medical Technology
UPMC Altoona School of Medical Technology/Medical Laboratory Science
Program Outcome
While completing their degrees in the Saint Francis University Biology program, our students achieve the following learning objectives:
Employ the scientific method, including the use of discipline-specific techniques, to discover and validate biological knowledge.
Demonstrate scientific literacy through reading, writing, presenting, and discussing research.
Demonstrate knowledge of how atoms and molecules interact to permit the function of living systems, and how cells sense, control, and respond to stimuli in their environments.
Demonstrate knowledge of molecular genetics and how this leads to the expression and inheritance of traits.
Explain how organisms reproduce and develop, how their anatomical structure permits function, how they maintain internal conditions, and how they sense and respond to external stimuli, across the full range of biological diversity.
Describe how evolution by natural selection explains the unity and diversity of life on earth, and articulate how organisms interact at the population, community, and ecosystem levels.
Curriculum
The Biology, B.S. degree provides training to students across all major fields of the biological sciences, including molecular and cellular biology, organismal biology, ecology, and evolution. The requirements include a core curriculum common to all biology majors, as well as electives that are selected from clusters that represent major levels of analysis within the biological sciences. This program provides considerable flexibility to help students prepare for a variety of career paths in the biological sciences.
Concentrations in Biology, B.S. include:
Biology, B.S., Ecology & Environmental Biology Concentration
Biology, B.S., Marine Biology Concentration
Biology, B.S., Molecular Biology Concentration
Biology, B.S., Pre-Medicine Concentration (Pre-Dental, Pre-Medical, Pre-Optometry, Pre-Pharmacy, Pre-Podiatry, Pre-Veterinary)
Biology, B.S., Secondary Education Concentration or Biology, B.S., Secondary Education Concentration/Special Education Concentration
English Language Requirements
Certify your English proficiency with the Duolingo English Test! The DET is a convenient, fast, and affordable online English test accepted by over 4,000 universities (like this one) around the world.