BA in
Bachelor of Arts in Biology
NYACK College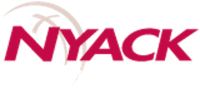 Introduction
Biology is the study of life, and Nyack's Biology majors have the opportunity to dissect and contribute to the vast body of scientific knowledge as they study and understand this ever-changing field.
Why Study Biology at Nyack?
Nyack College offers its students numerous opportunities to work closely with faculty who serve as mentors. Our program provides a solid foundation in the biological sciences and prepares students with both technical skills as well as communication skills. Biology students at Nyack have access to the following:
Small classes with a focus on active learning to develop critical thinking skills
Authentic research opportunities beginning freshman year
Cutting-edge laboratory research
Emerging technology
Special Accreditation
Middle States Association of Colleges and Schools
What Will I Study?
Our program provides a broad curriculum for students covering all aspects of life from molecular biology and genetics to ecology. Students have the opportunity to discover, name, and characterize new organisms through a cohesive laboratory research program. This work is presented at local, regional, and/or national conferences with opportunities to publish in research journals.
Scholarships and Funding
Making a Nyack education Affordable
Last year the office of Student Financial Services awarded over $8.5 million in grants and scholarships to over 95% of our students. We are committed to making a Nyack College education affordable and are working to lower the out-of-pocket costs for our students.
Final awards are determined by Nyack through your Award Letter.
Career Opportunities
A degree in Biology provides diverse career opportunities for students, varying from preparation for graduate school and health profession programs to private sector jobs and jobs in various governmental agencies. Here are a few examples:
Conservation/fieldwork
Health professions
Lab technician
Science education
Scientific research
Technical sales