Bachelor in
Bachelor of Agribusiness
Leaders Institute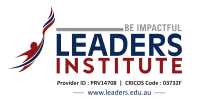 Scholarships
Explore scholarship opportunities to help fund your studies
Introduction
Course Rationale
Australia is a world leader in sustainable agriculture and food production. Globally, there is a severe shortage of agribusiness professionals. Leaders Institute's Bachelor of Agribusiness is ideally placed to prepare graduates for this ready market nationally and internationally.
Graduates will be equipped with the knowledge, understanding, and skills, that will make them market-and-business ready to work in small to large businesses in the areas of production, management, and agribusiness finance. Graduates will also be equipped to be self-employed and establish their own businesses and employ others.
The course encourages all graduates to be advocates of lifelong learning and ethical practice through membership of professional associations and industry peak bodies.
The integration of 5 separate WIL experiences for students provides opportunities to integrate and apply - in an authentic work environment, theory with practice. It also establishes valuable networks in the field for graduates.
Career pathways may include but are not limited to:
Farm management
Agribusiness management
Agriculture and resource economy
Policy development and analysis
Sales and marketing
Banking and Finance
Management consultancy
Course Learning Outcomes
Graduates of the Bachelor of Agribusiness degree will be able to:
Synthesise and apply the principles, concepts and contributing parameters of Agriculture production, management, and agribusiness finance in an agribusiness environment;
Interpret the impact of relevant legislation on agriculture operating environments and manage compliance;
Create innovative solutions for complex agribusiness management issues;
Display social, professional and ethical competence while working independently or in teams;
Effectively communicate with government, business owners and other decision-makers to influence agribusiness policy outcomes;
Undertake appropriate research to analyse and evaluate a multidiscipline contemporary practice for application, development, and improvement in agribusiness;
Apply principles of sustainability and life cycle analysis to current and emerging practices in agribusiness;
Benchmark best practices to understand agribusiness locally and globally.
Learning Time Period and Fee
Duration- 3 years full-time (6 semesters)
International Student Fees- Total Course Fees: AU $ 52,500* (AU $8750 per semester)
AU $395 one time enrolment fee is charged additionally.
*subject to annual review
Domestic Student Fees- Total Course Fees: AU $ 28,690* (AU $4650 per semester)
AU $395 one time enrolment fee is charged additionally.
*subject to annual review
Scholarships:
To promote excellence in scholarship and learning, Leaders Institute will offer scholarships to outstanding students for both courses starting Year 2.
A combination of merit and needs-based scholarships by way of fee discount of 25% is available for both domestic and international students. To apply for this scholarship, please meet your Program Director or the Academic Dean of Leaders Institute.
Admission Requirements
General
All applicants must meet the minimum English language requirements. These are specified in Leaders Institute's Admissions Procedures Schedule A.
In addition, all applicants must meet either: relevant standard minimum entry requirements as specified below or alternative relevant standard minimum entry requirements.
Applicants who apply for admission to a course on the basis of an approved guaranteed pathway will be offered a place in that course provided they meet the requirements specified for entry.
Domestic students
Admission to undergraduate courses is based on successful completion of one of the following:
The Queensland Higher School Certificate or an interstate equivalent Higher School Certificate. OP 17 / ATAR 60.
Completion of the International Baccalaureate Diploma.
Completion of an approved course at the level of Diploma or Advanced Diploma at a TAFE or registered training organisation (RTO).
Possession of qualifications deemed equivalent to any of the above qualifications.
International students
International students who have not completed an Australian qualification must have appropriate educational qualifications, deemed equivalent to the Australian Higher School Certificate under the NOOSR guidelines (refer to Admissions Procedures Schedule B and C)
International candidates may also be considered for admission by:
Satisfactorily completing vocational and or tertiary studies in Australia or overseas, accredited under the Australian Qualifications Framework (AQF), or
Satisfactorily completing equivalent overseas studies
Students enrolling from non-English speaking countries are required to undertake an English language test and demonstrate English proficiency with a minimum score of:
IELTS: 6.0 (Academic) with no sub-band less than 5.5
TOEFL (paper-based) 550 with a score of 5 or better in the Test of Written English
It is expected that students can demonstrate that the English language test was successfully completed within two years of the date of application for admission.
Note: International students must hold a valid student visa. There are numerous conditions that apply to a student visa. In particular, a holder of a student visa may not work, paid or unpaid, for more than 40 hours in any fortnight during semester time. Where Work Integrated Learning is integrated into a course, it does not count towards the 40 hours. Current information on student visa conditions may be found at https://homeaffairs.gov.au/Trav/stud/more/Visa-conditions/visaconditions-students
Alternative entry
Applicants who do not meet the minimum requirements for entry to a course of study may be considered for alternative entry on the basis of higher education study equivalent to at least two units of study successfully completed at a registered Australian higher education institution or an overseas educational institution assessed as being equivalent by LeadersInstitute.
A person may also be considered for entry on the basis of recognition of prior learning, prior employment in a relevant field or the acquisition of a non-award qualification in a relevant field.
Applicants seeking alternative entry must also fulfil the English language entry requirements.
Credit and Recognition of Prior Learning (RPL)
Credit for previous learning may be obtained through the processes of articulation, credit transfer and recognition of prior learning or a combination of these processes.
Students who wish to apply for RPL must provide evidence in terms of completed qualifications along with other relevant documentation.
Student Learning Support
Leaders Institute is committed to ensuring students achieve the Course learning outcomes.
A number of informal and formal learning support services are available to students enrolled with Leaders Institute. All students will be made aware of these at Orientation and via the web. They include group and individual study skills workshops with a study skills tutor, academic English workshops and online resources.
Course Structure
Units: 21 core and 3 electives