BSc in
B.Sc. Business and IT
IU International University of Applied Sciences – MyStudies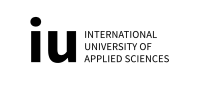 Introduction
Combine business knowledge with a deep understanding of IT
Evolve into a strong tech-minded professional.
With an online Bachelor's degree in Business and IT from IU International University of Applied Sciences, you'll build the required skills and know-how to excel in top-level positions in the technological sector.
Familiarise yourself with management and technical skills, and how to best combine the two.
With the IU International University of Applied Sciences myStudies model, you can combine studying online with studying in Germany, at one of our campuses. Work with other students and attend live lectures, either online or in-person.
Join more than 60,000 other satisfied IU students.
With the Right Education, You Can Create More Opportunities for Yourself in Today's Global Market
But what skills do you need to become a sought after professional?
At IU International University of Applied Sciences, we'll help you pick from over 150 state-approved classes. And you'll attend live, fully interactive lectures with tutors to help prepare you for your career — be it corporate, tech or NGOs.
You can learn from anywhere — either using our fully integrated digital platform, innovative learning tools and online lectures, or you can drop in on physical classes at our campuses in Germany — your schedule, your choice.
Enrolling in MyStudies also makes you eligible for a dual degree from LSBU (London South Bank University) without any additional academic requirements.
This Is Real Education, Evolved to Accommodate the Actual Needs of Students in 2023
Choosing your education is a big step, so we're giving you a 4-week trial to see if it fits
You can start whenever you're ready — enrollment occurs up to 4 times per year
IU Learn App — and all the study material, your professors and your classmates in your pocket
Whether you're on campus or attending online lectures, you'll be learning from real people with practical experience
Flexibility is free of charge — you can extend your period of study by up to 12 months or take a semester off at no extra cost
Career Opportunities
As an expert in business and IT, you can find a position that is at the interface between concept, design, implementation and maintenance of technical topics. From start-ups to large international companies, you will ensure that all IT systems run efficiently and reliably and that all information is transferred securely. You may even use your business and technical expertise to start your own project as an entrepreneur.
IT Project Manager
As an IT Project Manager, you are responsible for managing IT projects and are always up-to-date on the latest developments. You are able to use your specialist knowledge to intervene if needed. You will determine project processes for IT and create guidelines and policies that ensure project success. You will also need to take into account the needs of the company and create documentation during the project. Consulting with specialist departments and project managers is also part of your job.
Software Developer
As a software developer, you will develop and implement software, from single building blocks to complete applications. In coordination with users from various departments, you will programme solutions that are tailored to the respective needs and requirements. In doing so, you will also keep the economic conditions in mind at all times and ensure compliance.
Business Analyst
As a business analyst, you will examine business processes and take care of requirements management. This means that you will identify, analyse, prioritise and formulate the requirements for processes and IT systems. In doing so, you will have an excellent eye for identifying challenges and risks, as well as new opportunities. You will coordinate with the IT department regarding implementation while also considering cost-efficient product solutions that match the business strategy. You will ensure that all participants work together efficiently until implementation.
Free Webinar and Q&A
Webinar: Study with IU 6:00 pm - 7:00 pm (CEST)
Curriculum
During your studies, you will acquire IT expertise, for example in requirements engineering or in the field of data modelling and database systems, as well as comprehensive business management knowledge. You'll become familiar with all key aspects of business and master the ability to recognise technological potential and to utilise it for any company's success. Your Bachelor's in Business and IT online will provide you with interdisciplinary know-how, turning you into a highly employable candidate on the job market upon graduation.
1st Semester
2nd Semester

Introduction to Computer Science
Object-oriented Programming with Java
Management Accounting
Mathematics I
Statistics: Probability and Descriptive Statistics
Jan/Feb/Mar Collaborative Work

Data structures and Java class library
Business 101
Web Application Development
Programming Information Systems with Java EE
Principles of Management
Introduction to Academic Work

3rd Semester
4th Semester

Requirements Engineering
Database Modeling and Database Systems
Intercultural and Ethical Decision-Making
International Marketing
Fundamentals of IT and ERP systems
Project: Software Engineering

IT Project Management
Introduction to Process Management
Data Analytics and Big Data
Corporate Finance and Investment
Software Quality Assurance
Seminar: Software Engineering

5th Semester
6th Semester

Digital Business Models
Organizational Behavior
Purchasing, Procurement and Distribution
IT Law
Elective A* (online)

Elective B* (online)
Elective C* (online)
Bachelor Thesis (online)
Elective A
Big Data and Cloud Technologies
Business Intelligence
Data Engineer
Foundations of Programming with Python
IT Security
IT Service Management
Java and Web Development
Logic and Artificial Intelligence
Mobile Software Engineering
Salesforce Platform Development
Elective B
Applied Sales Applied Sales
Smart Factory
Smart Services
Supply Chain Management
Elective C
Applied Sales
Big Data and Cloud Technologies
Business Intelligence
Data Engineer
Foundations of Programming with Python
IT Security
IT Service Management
Java and Web Development
Logic and Artificial Intelligence
Mobile Software Engineering
Salesforce Platform Development
Smart Factory
Smart Services
Supply Chain Management
Salesforce Platform Development Specialisation
Salesforce is the world's most commonly used software solution for Customer Relationship Management (CRM). It is characterised by a large number of functions and integrates it features and is well known for its fast adaptation of the latest technological developments in the world of software development. This specialisation was designed in full cooperation with Salesforce, so students who successfully pass this module will be recognised as Salesforce experts with a special certificate.
Specialisation Overview
The specialisation courses that are a part of this study programme, are a cluster of courses dedicated to diving deep into a specific topic related to the programme. When choosing a specialisation, you get to explore a potential future career path, or just develop a strong knowledge base about a topic that particularly interests you.
In semesters 5 and 6 of this programme, you'll choose three specialisations, amounting to 30 ECTS. You have a wide range of options to choose from, according to your interests and ambitions. Some of the specialisations offered are:
Mobile Software Engineering
IT Service Management
Business Intelligence
Foundations of Programming with Python
Big Data and Cloud Technologies
Rankings
Accredited.
IU International University of Applied Sciences has received system accreditation from EQAR, FIBAA, the German Accreditation Council, the German Council of Science and Humanities, and WES Canada. This means their courses, faculty and teaching material all match the rigorous standards that have been set for them and they can now accredit their own programmes.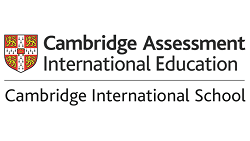 Cambridge Assessment International Education / High School Diploma Study Pathway.
IU is the first online university partner of Cambridge International's high school diploma Pathway. By working with Cambridge, IU offers students a special chance to finish their high school diploma while studying for a bachelor's degree. Since they are required for your bachelor's degree, these high school diploma courses are free of charge. The Study Pathway is a unique 12 months course with a 150-hour workload which you take alongside your bachelor courses. The Pathway concludes with an exam that can be retaken an infinite number of times.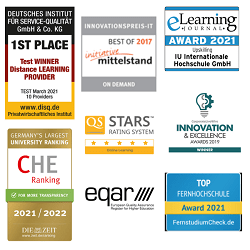 Award-Winning.
In the current CHE ranking (2020-2022), IU tops the Business Administration field in categories of "General Study Conditions," "Contact with Lecturers," "Study Programmes Offered," "Examinations," "Study Organisation," and "Practical Orientation," winning a total of six out of 25 categories and achieving more top category rankings than any of the more than 300 institutions. IU received a 5-star rating for online learning and a score of 99 out of 100 in the QS, Quacquarelli Symonds, Stars Report, making it the first German university to receive such a ranking. It was also given the FIBAA Premium Seal for Digital Excellence and has excelled in 15 out of 23 criteria, including categories like Future Orientation, Knowledge Management, Quality Assurance of Teaching, and retaining the rating for the next five years. It is the only training provider to get the DtGV's Service Award 2022 from the German Society for Consumer Studies given that it has a dedicated academic staff and trained study coaches who ensure that students are supported throughout their studies.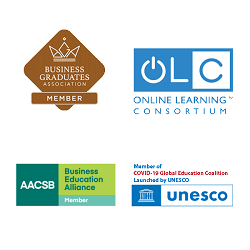 Connected.
IU is a member of the Business Graduate's Association, Online Learning Consortium, AASCB, and UNESCO's Global Education Coalition. These memberships give them connections to other institutions, companies, and NGOs as well as top-tier degree programmes and lifelong learning development courses. By leveraging cutting-edge technology, IU helps students in need to continue their education and pursue lifelong learning.
Scholarships and Funding
Make 2023 your year. Change your future with IU - apply and save up to 25%!



IU is always looking for new ways to help you combine high-quality education, accessible education, no matter your circumstances. You have the chance to get up to 25% off your on-campus studies! Join IU on one of their campuses in Bad Honnef or enjoy a major European city in Berlin. Their lectures still offer great flexibility, giving you a chance to work, socialize and explore a new continent while working towards your future.