Bachelor in
Bachelor in Biology
Dominican College

Scholarships
Explore scholarship opportunities to help fund your studies
Introduction
As a Biology major at Dominican College, you will have a choice of three distinct academic tracks that will prepare you for the science-related career of your choice while you receive the benefits of a broad-based liberal arts education.
Our Biology program channels your passion for life sciences into a solid foundation for advanced study of the sciences or for a rewarding and fulfilling career in any discipline involving plants, animals, people, or the earth.
Academic Tracks Leading to a B.S. or B.A. in Biology
Pre-Med Concentration: The pre-medical concentration will prepare you for higher study in fields such as medicine, veterinary sciences, chiropractic, physical therapy, dentistry, and ophthalmology.
The emphasis in Environmental Science: With an emphasis on Environmental Science, you will develop an in-depth understanding of the scientific processes at work upon the Earth and will be prepared to work in areas such as forestry, waste management, botany, pest control, and ecology.
Preparation for Adolescence Education: If you wish to teach biology at the high school level, our Adolescence Education track will equip you with knowledge and practice in teaching methods that will lead towards New York State certification and provide you with the scientific knowledge you require to become an effective classroom educator.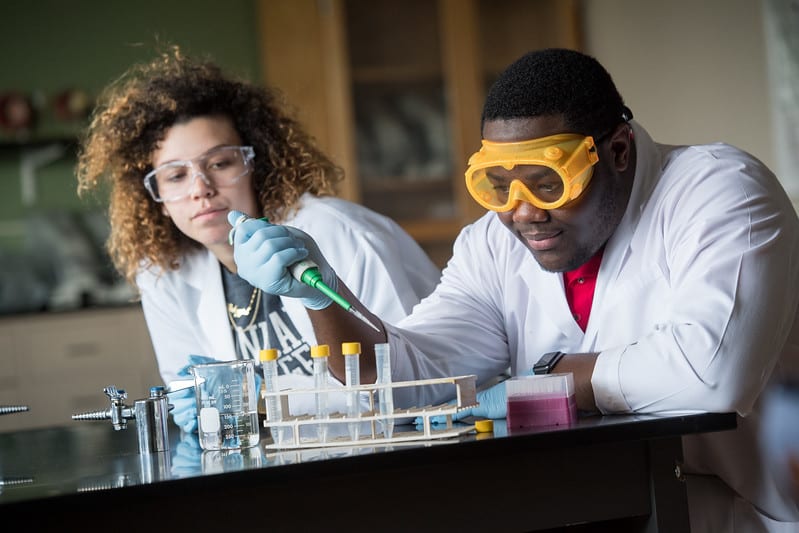 Summary of Requirements
All Biology majors take certain foundation courses that are critical to a thorough understanding of any physical science and pave the way for further specialization. These include General Biology I and II; General Chemistry I and II; General Physics I and II; Calculus I and II; Microbiology; Genetics, and Biochemistry. Depending on your area of focus, you will also follow one of these courses of study:
If you choose an emphasis in Pre-Med, your course of study will provide you with expertise in the human body and in the understanding of the content and processes of scientific research.
If you choose an emphasis in Environmental Science, your course of study will provide you with expertise in general science and research and in those disciplines unique to the study of the Earth and its inhabitants.
Champion educators require expertise both in subject matter and in classroom pedagogy, and our course of study towards the Bachelor of Arts in Biology with Preparation for Adolescence Education will put you solidly on that path.
Articulation Agreements
The Biology program features articulation agreements with multiple colleges to facilitate advanced study:
American University of Antigua (AUA)
Graduates of Dominican College who have an overall 3.25 GPA, a minimal GPA of 3.25 in all pre-requisite courses required by AUA, and faculty recommendation will be offered admission to the AUA Medical School.
New York Medical College (NYMC)
Dominican College seniors who are admitted into the Graduate School of Basic Medical Sciences (GSBMS) Master's programs will be allowed to take up to 8 graduate credits in each academic term (Fall and Spring) in the GSBMS of NYMC during their senior undergraduate year. Dominican College will accept NYMC credits towards Bachelor's degree requirements. NYMC course credits will be applied toward graduate degree requirements in the GSBMS. Students must receive recommendations from the biology faculty in order to apply for this program.
Fairfield University School of Engineering
3-2 B.A. Biology-B.S. Bioengineering
Dominican College students who have a minimum 3.0 GPA in the biology program may apply for admission to the Bioengineering program at Fairfield University School of Engineering in May of their junior year. Successful students earn two bachelor degrees, the B.A. in Biology from Dominican College and the B.S. Bioengineering from Fairfield University, at the end of five years.
Dominican College's 3-3 BA-DPT program
3-3 B.A. Biology-Doctor of Physical Therapy
Entering freshmen whose high school GPA is at least 3.3 and SAT scores are at least 1150 and who have had 4 years of science is high school (including physics) may enter Dominican College's 3-3 BA-DPT program. Students who maintain at least a 3.3 GPA overall and in the DPT prerequisite courses (with no prerequisite course grade below a C) undergo a streamlined application to the DPT program in the fall of their junior year. Successful students earn a B.A. in Biology and DPT from Dominican College.
Admission Requirements for First Year Students
Transcripts
Ask your high school counselor to forward transcripts directly to the Office of Admissions
ACT/SAT
If English is not the first language of the applicant, a minimum TOEFL score of 80 on the internet-based test (I.B.T.), or 550 on the traditional paper test, or 213 on the computer-based test is required for admission.
Submit the results of one of the following examinations to the Office of Admissions:
Scholastic Aptitude Test (S.A.T.) of the College Entrance Examination Board. The C.E.E.B. Code for Dominican College is 2190.
The American College Testing (A.C.T.) Assessment Test. The A.C.T. code for Dominican College is 2730.
Personal Interview
A meeting with an admissions counselor is not always required but is always desirable. Some applicants may be asked to meet with a member of the Admissions staff.