Bachelor in
Ingénieur·e Généraliste Majeure Industrie & Services Cursus en 5 Ans
CESI - School of Engineering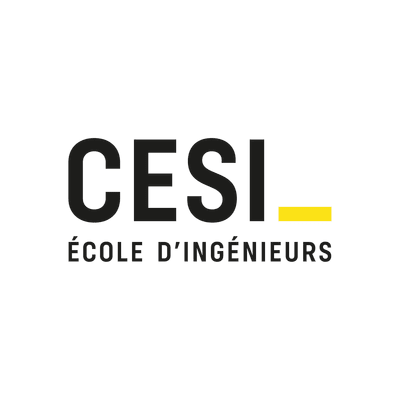 Key Information
---
Campus location
Lille, France
Tuition fees
EUR 7,500 / per year
Application deadline
Request info
Earliest start date
11 Sep 2024
Curriculum
Programme of the preparatory cycle
Basic Engineering Sciences
Implement mathematical tools for the engineer in analysis, algebra, geometry and statistics-probability
Apply the fundamentals of direct and alternating current electricity, point mechanics and non-deformable solids, thermals, and thermodynamics.
Deepen your knowledge of the fields of physics: electricity, electronics, solid and fluid mechanics, energetics, materials chemistry
Understand and implement the basic principles of algorithmics and programming
Engineering Sciences and Methods
Apply analysis and problem-solving methods
Perform a functional analysis
Establish specifications
Using CAD to model a product and make it 3D printed
Practice on-board programming on Arduino
Specialty Sciences and Techniques
Applying Physical Principles and Phenomena:
Design an automatic servo system
Calculate the power required for an electromechanical system
Understand and implement the principles of electromagnetism
Perform modeling using a robot
Implement a robot as part of a project affecting society
Understand how the industrial company works:
Identify its different processes: R&D, industrialization, production, logistics
Identification of physical and information flows
Establish a map
Implement production management principles: organization, planning, costs
Humanities, economics, law and social sciences
Develop your practice of French in order to express yourself clearly and flawlessly in writing and orally
Acquire the reflexes of communication that promote teamwork
Practising the English language to communicate in a professional context
Integrating the principles of sustainable development in the face of climate issues
Internship
Put into practice the knowledge acquired during an internship in a company, lasting a minimum of 3 months
Engineering Program
Basic Engineering Sciences
The basic sciences occupy a fundamental place for the engineer, including mathematics and the physics disciplines that he will need in his duties:
Mathematics
Mechanical engineering: solid mechanics, fluid mechanics, materials
Electrical engineering: electricity, electronics, electromagnetism
Energy engineering: thermodynamics, thermal
Engineering Sciences and Methods
The general engineer must master engineering tools and methods to manage projects and deal with the problems he or she must solve:
Functional analysis
Statistics and probabilities
Operations research
Methods of analysis and problem solving (FMEA, VSM, etc.)
Management of information and communication systems
Literature search
Project management
Lean management, operational excellence
Innovation Engineering
Exposure to research
Science and technology of the specialty
The specialized science and technology program aims to deal with in-depth subjects that are now necessary in the various industrial sectors, integrating the eco-responsible dimension at all stages of a product's life cycle: 3D CAD, modeling, digital modeling / Additive manufacturing / Robotics, robotics / Artificial Intelligence / Augmented Reality, Virtual Reality / Sensors, and connected objects / Lean management / QSE / Eco-design
Humanities, economics, law, and social sciences
The SHEJS program is essential for complementing the knowledge and skills of engineers, beyond the scientific and technical fields:
Professional Communication
Leadership and management of people
Economics and management
Labour law and personnel management
Corporate Social Responsibility and Ethics
Regulations & Standards
Team leadership and creativity development
International
English: written, oral, TOEIC certification preparation
Interculturality
Professional project
The Individual Training Project allows each student to develop his or her professional project:
Identify the skills expected for the position in question,
Self-assess,
Building a Progress Plan
Evaluate your progress
They benefit from an optimized preparation for taking up their position at the end of their training. The approach is supported throughout the training by CESI teachers as well as by recruitment professionals.
Rankings
Le Système D'évaluation
En cycle préparatoire comme en cursus ingénieur, le système d'évaluation est basé sur un contrôle continu. Les enseignements sont répartis dans différentes Unités d'Enseignement ; chaque unité correspond à un certain nombre de crédits ECTS. Une année correspond à 60 crédits. Les étudiants doivent avoir validé toutes leurs unités d'enseignement et obtenu leurs crédits ECTS pour passer en année supérieure.
Les conditions pour l'obtention du diplôme sont :
Valider l'ensemble des Unités d'Enseignement, donc avoir acquis 300 crédits sur les cinq années de la formation
Obtenir une certification de niveau B2 en anglais
Effectuer une mobilité à l'étranger d'une durée de 20 semaines
Career Opportunities
Design & Development Engineer / Project Manager Engineer / Project Engineer Production
Engineer / Continuous Improvement Engineer / Methods
Engineer Maintenance and New
Works Engineer Lean Manufacturing
Engineer Quality, Safety & Environment
Engineer Ecological Transition Engineer
Continuation of Cesi Studies
After the preparatory cycle: Possible continuation of studies towards a general engineering course in 3 years through apprenticeship (after a preparatory cycle, a bac +3 or a bac +2 under conditions) After the engineering course: Enter a Specialized® Master's degree course at CESI to specialize your expertise or move towards research by pursuing your doctoral studies at CESI Take advantage of CESI partnerships with international universities and business schools to obtain a double degree