BSc in
BSc (Hons) in Information Technology - Business Information Systems Specialization
Asia Pacific University of Technology & Innovation (APU)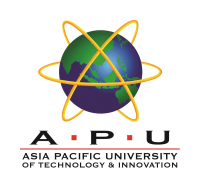 Introduction
APU-DMU dual degree program
Students who are under Bachelor's Degree Program will have the option to opt-in for the APU-DMU Dual Degree Scheme. Under this Scheme, students will receive 2 Degree Certificates & Transcripts upon graduation: 1 from Asia Pacific University (APU), Malaysia, and 1 from De Montfort University (DMU), UK.
Curriculum
Program outline
This program is specifically designed to provide students with:
Familiarity with a broad range of Information Systems and how they are used.
An understanding of frameworks and planning techniques for the strategic management of information systems in organizations.
The ability to critically evaluate and recommend appropriate information systems to fulfill the organization's needs.
Degree level 1
Students will learn fundamental skills required by every IT professional, and the basic understanding of the underlying computer system through Computer Architecture, operating systems, networking, and databases. Some specialized modules will provide the basic knowledge of web development and programming. The modules will also help them develop personal and organizational skills, as well as nurture creativity and innovation.
Common modules
Intercultural Awareness and Cultural Diversity
Digital Thinking and Innovation
Mathematical Concepts for Computing
Operating Systems & Computer Architecture
Python Programming
System Analysis & Design
Introduction to Databases
Introduction to Networking
Introduction To C Programming
Specialized modules
Introduction to Information System
Degree level 2
A broader range of skills will be learned, in which you will gain a better understanding of the broad range of information technologies, and the specialized skills to apply frameworks and planning techniques for the strategic management of information systems. You will gain a solid understanding of the support of business information systems in modern organizational operations. We will further nurture your creativity and innovation as well as independent learning to prepare you for the workplace.
Common modules
Programming for Data Analysis
Object-Oriented Development with Java
System Development Methods
Creativity & Innovation
Research Methods for Computing and Technology
Human-Computer Interaction
Web Applications
Enterprise Systems
Integrated Business Processes with SAP
Probability & Statistical Modelling
Specialized modules
Management Information System
E-Commerce
Internship (16 weeks)
Students will undertake an Internship/Industrial Training for a minimum period of 16 weeks to prepare them for a smooth transition from the classroom to the working environment.
Degree level 3
Students will make use of their previous studies and industrial experience to extend their familiarity in the field of business information systems and to refine their personal and professional development. Students will move further into the development of business proposals that introduce the development, deployment, and business impact of information systems. A final year project requires them to investigate and develop a solution for a real-world problem – they will demonstrate their ability to combine technical knowledge, critical thinking, and analytical skills to produce a personal achievement portfolio.
Common modules
Innovation Management & New Product Development
Project Management
Internet of Things: Concepts & Applications
Project In Information Systems
Computer Systems Management
Entrepreneurship
Investigations in Information Systems
Specialized modules
Developing E-Commerce Applications with XML
Information System Development Trends
Building Customer Relationships
Designing & Developing Applications on Cloud
MQA compulsory subjects*
Ethnic Relations (M'sian Students)
Islamic & Asian Civilisation (M'sian Students)
Malaysian Studies (Int'l Students)
Malay Communication Language (Int'l Students)
Workplace Professional Communication Skills
Employee & Employment Trends
Co-Curriculum
(*All students are required to successfully complete these modules as stipulated by the Malaysian Qualification Agency.)
Note: The specialism will appear only in the academic transcript.
Career Opportunities
Career options
IT Business Systems Developer
IT Systems Analyst
E-Commerce Consultant
Chief Technology Officer (CTO)
Management Information System (MIS) Manager
Global Business Solution Specialist
Global Business Solution Consultant
IT Business Development Manager
IT Quality Assurance (QA) Analyst
IT Business Engagement Manager
SAP Business Analyst
Technical Business Analyst
Business Systems Analyst
System Analyst
Business Intelligence Manager
CRM Business Analyst