BA in
Bachelor of Arts in English: Emphasis in Literary Studies
Allegheny College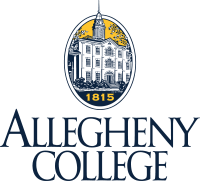 Introduction
Allegheny's English Department prepares students for an unknown future through the study of literary citizenship. Our program is oriented on flexibility and deep thinking, dedicated to the analysis and production of texts that mediate our relationship with the world, and committed to the cultivation of the uniqueness of human intellect, creativity, and communication. As readers and writers, we explore how literature and language shape, have shaped and will shape the world within which we live.
At a glance
89% of English students report employment within the first eight months of graduation.
What makes English-Literary studies at Allegheny different?
Single Voice Reading Series. This is an opportunity to hear and meet nationally known writers. Readers have included John Updike, Carolyn Forché, and Tobias Wolff.
Student-Faculty Collaboration. Many English majors carry out independent humanities research or collaborative research with faculty in addition to the Senior Project.
The Kirk and Caroselli Support Fund. This fund offers English majors support for academic conference attendance, professional presentations, summer writing workshops, Senior Project research, and materials.
Curriculum
Our curriculum seeks to improve students' ability to express their own best ideas in a variety of forms. By mastering modes of analytical reading, critical explication, coherent argument, and creative thinking, students acquire those skills required to succeed in many professional fields. By studying a variety of literature in English, they learn to recognize the ideas and perspectives that shape their own and earlier times; and by cultivating a sensitivity to and healthy skepticism about the subtlety and power of language, they become educated in the fullest sense.
Year 1
Our introductory course, ENGL 110, emphasizes close reading and the study of at least three literary genres.
Year 2
Year two courses should cover at least two historical periods of literary history (e.g. realism and modernism) and the connections between them.
Year 3
All 300-level courses incorporate secondary research and a consideration of literary criticism. Students will refine their ability to ask relevant, independent interpretive questions of literary texts, encounter relevant examples of literary criticism, and be able to summarize and respond to the argument of select articles.
Year 4
Typical fourth-year literature courses build on rigor and will include theoretical approaches to literature. Students will continue to hone their skills as close readers of literary texts, find and evaluate relevant published criticism apply critical methods to a focused literary topic and complete a substantial research project that displays a sustained sense of historical and cultural context.