BA in
BA in Film & TV
3iS International Institute of Image & Sound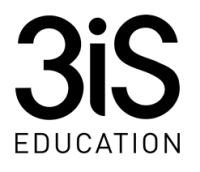 Scholarships
Explore scholarship opportunities to help fund your studies
Introduction
Our BA in Film & TV prepares students who are fluent in English for an international career in directing, screenwriting, producing, cinematography and editing.
Classes are taught by a faculty of professional filmmakers and artists who are skilled in up-to-the-minute filmmaking practices and provide instruction on state-of-the art equipment and software. At 3iS, we place emphasis on hands-on learning and are one of the few schools where students start making films right away from their first semester.
1st Year - Foundation Year
The students acquire the basic concepts, methods and skills of television and film production in preparation for the intermediate and advanced training they will receive in the following years.
2nd Year - All about skills
It's not what you know that counts, it's what you can do well. The curriculum is transversal, developing key competences in all major areas of the industry. Students also choose one of three majors: cinematography, editing or production.
3rd Year - Professionalization
As in the second year, the first semester is focused on television and the second semester on cinema, but with advanced techniques and working methods. Students must achieve the required level of professional competence to pass the diploma.