Program Description
Bachelor of Fine Arts - Textiles
NSCAD introduces you to the diverse field of textiles, which encompasses art, science, and technology. The program integrates conceptual concerns as you study the techniques and design skills involved in the textile traditions of weaving, dyeing, and printing. You will examine the relationship between materials, processes, and the maker, as well as the critical role that textiles have played in world cultures. With a focus on sustainable and organic materials and techniques, the program maintains handcraft values and incorporates digital methodologies.

Fashion offers you a balanced curriculum through which to develop skills and knowledge related to imaginative design and technical proficiency and explores the issues and meaning of fashion and body covering. The program provides intensive study of the conceptualization, production, and embellishment of cloth and other materials. The resulting knowledge and skill base will enable you to develop individual garments, wearable art, haute couture, and costuming for film, theater, and dance.

NSCAD Textiles and Fashion graduates are successful businesses, interior designers, community educators, critics, curators, professors at colleges/universities, and arts administrators in galleries and museums. Many have pursued graduate studies and have become writers


Facilities

• 12-module TC-1 digital Jacquard loom with 2640 hooks, capable of weaving cloth 43" wide
• JacqCAD Master and Proweave software
• 4, 8, 12 and 16 harness floor looms of various widths, one with an air dobby system fully equipped dye studio
• Surface design studio with variety of print tables, a darkroom, vacuum light tables, pressure washout, heat transfer machine, steamer, washer, dryer, and commercial refrigerator
• Fashion studios with 10 large cutting tables, 14 industrial sewing machines, industrial gravity-free irons, 3 sergers, dress forms and several specialized domestic machines.
• Knitting machines
• Display case for student work



Last updated Feb 2018
About the School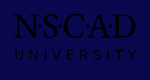 One of Canada's oldest independent cultural institutions, NSCAD University continues to be regarded as a principal centre for education and research in visual culture in North America. Part of our app ... Read More
One of Canada's oldest independent cultural institutions, NSCAD University continues to be regarded as a principal centre for education and research in visual culture in North America. Part of our appeal is the ever-present relationship of the old to the new, and our convenient location in the heart of downtown Halifax's waterfront district. Behind the Victorian facades of our main campus and the Academy Building – both open 24 hours a day, seven days a week – students create some of the most cutting-edge images and objects being made anywhere on the continent. After an experimental foundation year, students gradually focus in order to become specialists in some aspect of art, craft, design or historical and critical studies. They are educated to think critically, to balance academic issues with practical concerns in the studio, and to explore how the visual arts give meaning to both individual and community life. NSCAD University fosters close creative relationships among artists, designers, academics and the public, and takes on leadership responsibilities in the regional, national and international art communities. Our graduates go on to join the ranks of the most interesting and successful artists of their generations. As the university embraces the new century, it is building on the strengths of its history, maintaining and intensifying traditional arts and crafts while capitalizing on the many new technologies shaping the world and human interaction. A significant expansion currently underway will soon make NSCAD Canada's largest centre for graduate programs in the visual arts.We believe the next phase of modernity in the visual arts has begun, and it is our full intention to play a role in its formation. Things are happening behind those Victorian facades.Our faculty, students and alumni are at the heart of the burgeoning industry of ideas, with discovery constantly at their fingertips.
Read less