Program Description
Architecture
Architecture is a powerful tool we use to transform our environment in order to make it a better place. More than ever as architects, but also as citizens of this world, we are aiming to design artifacts, buildings, and cities that not only reflect our dreams, creativity, ambitions as individuals and as societies but are also respectful towards our world and its inhabitants. Our program emphasizes the responsibility of architects for their impact on the environment. Our graduates will contribute to a new understanding of design based on an ethically responsible approach towards the environment and thus, will become involved actively in the creation of a better world. We envision a future where our graduates lead the way to developing more environmentally resilient ways of designing not only in Turkey but also all around the world.
The architectural program at MEF will enable students to work in a rigorous but non-competitive, collaborative environment. The students will have the chance to work on real-life design problems through collaborations with NGO's and local organizations since our program aims to bring the approach of 'design as a service to the community' into our curriculum.
The architectural education at MEF Architecture is based on the design studio as its main center of integrating design issues: cultural, social, environmental, technological, theoretical, economic and political. We believe this studio culture is essential to architectural education and is not limited to the relationship of the students with instructors. Studio environment will be supportive and it will include facilitated peer teaching and teamwork. We will make sure that our students are involved in the further enrichment of our curriculum and also the development of extracurricular programs, so they can be ready for the leadership roles they will be assuming in the future.
We believe it is of utmost importance that the majority of our faculty have degrees and academic experience from abroad in order to establish the richness of perspectives within our program. We will also bring academicians from well-known universities of the world as well as professional architects into our faculty as well as invite them as speakers, jurors as well as studio instructors into studios to enrich the experience of the students.
Istanbul is an amazing laboratory and we are very lucky to be working within it. Istanbul with all its layers, history, energy as well as its problems will be the main source we will be depending upon in our program.
Job Opportunities
Graduates of MEF Architecture program have a wide variety of fields they can work on. After completing their architectural education, our graduates can work in areas related to architectural design and construction as well as other design disciplines. Architectural graduates specialize in design, creative decision-making, taking initiative and problem-solving. These abilities can be applied successfully in a number of fields.
Architecture: Graduates of the program can work in architectural offices and establish their own architectural design firms. They can also work in the architectural departments of local governments and large construction companies. Our graduates will receive an education that will enable them to work by taking responsibility and initiative in architectural firms of various sizes and qualities.
Construction: Our graduates will be able to work in construction firms' design, planning, finance, and production departments. They can also work in firms involved in the production of construction materials, services, and technology such as pre-fabricated construction systems, ceramic tiles, facade materials.
Other Design Fields: Our graduates can also work in a number of related design fields by developing skills related to their personal interest (such as advanced computer modeling). They can work in firms specialized in interior design, landscape design, computer games, furniture design, and urban design or they can establish their own firms working on these areas of design.
Bachelor of Architecture Objectives
The objective of the Bachelor of Architecture program at MEF University is to produce creative, ethically and socially responsible as well as globally competitive graduates, who can make a positive change in the built and the natural environment by applying their technical knowledge, critical thinking, and innovation and leadership skills.
Curriculum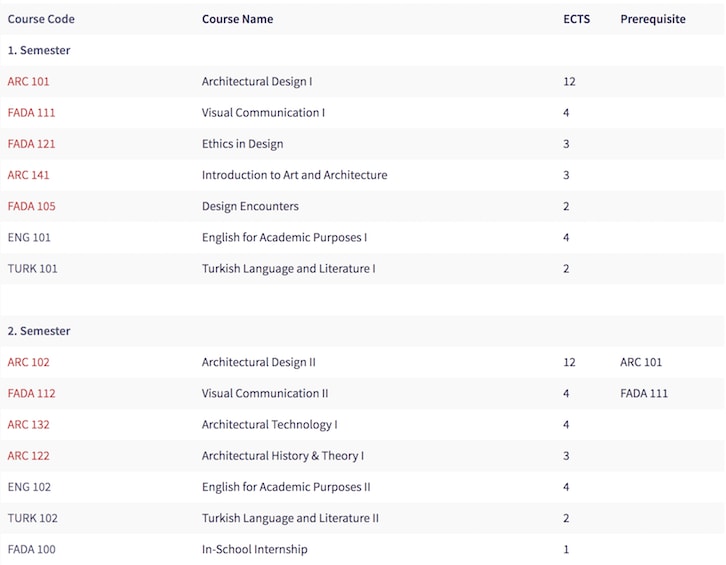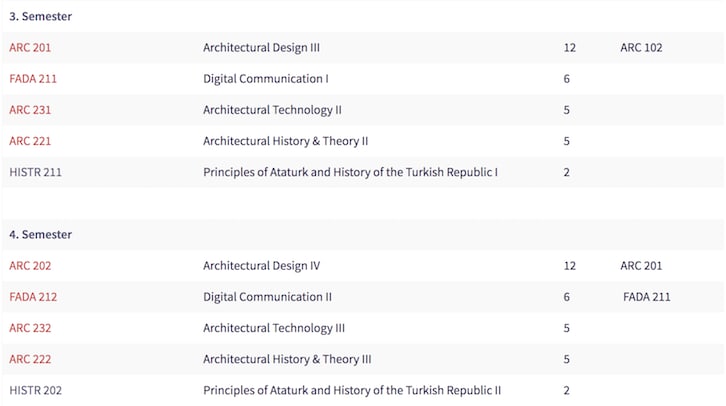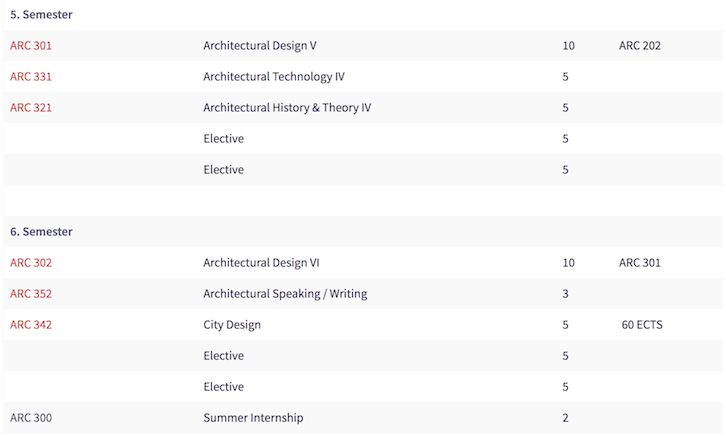 Elective requirements:
a minimum of 2 technology electives
a minimum of 4 departmental electives
a minimum of 4 non-departmental electives (technology electives can be chosen from departmental electives or non-departmental electives or must-courses)
How to Apply?
Application Criteria:
Applicants need to be graduates of high school equivalent to Turkish high schools, or in the last year of such a high school. Applicants who have not yet received their high school diploma may only get a conditional acceptance.
Prospective students may apply with an acceptable high school diploma (those in the last year of high school, with their transcript), international diploma (such as IB, Abitur etc), national high school exit/university entrance examination score, or with an international university entrance examination score (such as SAT, GCE, ACT). The full list of acceptable diplomas/examination and their minimum scores are available on the university's website.
Online Application:
Applicants should complete the online application form. Applicants need to attach the following documents:
Copy of the identity information page of their passport
Passport style (portrait) photograph
High school diploma (if available)
High school transcript
Any recognized high school exit/university entrance examination score result, if available
Proof of English proficiency, if available
Statement of motivation
English Proficiency:
MEF University is an English medium university. All programs apart from Law are 100% in English. The Law program is 30% in English.
Students need to demonstrate their English proficiency before beginning in academic programs. The level of English proficiency required is equivalent to TOEFL iBT 80. Only internationally or nationally recognized examinations are accepted as proof of proficiency. The recognized examinations and their equivalences are as follows:
TOEFL iBT: 80
P.T.E. Academic: 67, CAE: C, CPE: C
U.D.S., K.P.D.S., Y.D.S. (Turkish governmental examinations): 65
Applicants, who do not have acceptable proof of English proficiency at the time of application or university enrollment, sit the MEF University English Language Placement and Proficiency Examination. Students who do not pass the Proficiency Examination will need to study in the MEF University English Language Preparatory Program until they meet the required level.
Applicants to the Law program who are not native Turkish speakers or graduates of Turkish medium high school are required to present proof of Turkish language proficiency (TÖMER C).
Acceptance Decisions:
The acceptance decisions are given to the applicants meeting the application criteria based on the relative merit of applications. Applicants are informed about their acceptance decision and a scholarship offer and asked to confirm their intention to enroll with a payment of a deposit of USD 250 on the university's bank account. The deposit is counted towards the first semester's tuition fee but is non-refundable in case of non-enrolment. After payment of the deposit, an official letter of acceptance is issued. Accepted students are solely responsible for their student visa applications.
University Enrolment:
Accepted students will make their university enrolment during the dates announced by the university on its website. The following documents are required for university enrollment:
Original of high school diploma and its notarized Turkish translation if it is not issued in Turkish or English
High School Diploma Equivalency Certificate from the Turkish Ministry of Education (or Educational Attaché of Turkish Consulate)
Original of high school transcript
Original scorecard of test scores (high school exit/university entrance) used to support the application, if any
Photocopies of the applicant's passport identification information page and the page containing student visa. The student visa is compulsory for all international students. It can be obtained from a Turkish Consulate in the applicant's home country by presenting the letter of acceptance.
Photocopy of the first seven pages of the Residence Permit (obtained from the Bureau of Foreign Residence)
4 passport size (4.5 x 6 cm) photos (taken in the last 6 months, clearly identifying the person)
Receipt of tuition fee payment
Original scorecard of recognized language proficiency exam (if available)
Applicants who fail to complete the enrolment process within the announced dates or to provide the required documents, forfeit their right to study at MEF University.
Last updated Apr 2019
About the School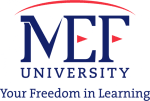 MEF University, which admitted its first students in the academic year 2014-2015, aims to become a university that keeps entrepreneurship, innovative thinking and creativity in the foreground and has ... Read More
MEF University, which admitted its first students in the academic year 2014-2015, aims to become a university that keeps entrepreneurship, innovative thinking and creativity in the foreground and has the ability to create global and local value-added with its distinctive educational model.
Read less