BA (Hons) in International Relations
Home ›
BA ›
BA (Hons) in International Relations
Program Description
Overview
The BA (Hons) in International Relations aims to produce graduates who are reflective and critical learners, with a global perspective, and who are prepared for the world of work. This is achieved through a number of measures:
In order to capitalize on the knowledge and understanding that the degree aims to develop, effective communication and an ability to work in teams and with diverse stakeholders, are seen as essential attributes of our graduates. The development of communication, presentation, and team working skills lie at the heart of the degree and are nurtured from first principles to a high level of proficiency in many of the thematic modules and, especially, through tutorial programmes.
Employers also value independence of thought and a creative ability to find solutions. The degree enables students to take ownership of their learning – whether individually or in groups – and encourages independence of thought and problem-solving across a spectrum of activities: in the conduct of a research dissertation; in critical reading and writing in thematic modules; or in tutorial discussions and presentations.
In addition, the degree explores issues of sustainability and the environment. Atmospheric and many other pollutions are inevitably global issues as they know no boundaries and are included here because sustainability and the environment are increasingly important global issues, including the international competition for scarce resources such as oil and water.
Entry Requirements
Route 1: Entry to Year 1 Degree
Successful completion of STPM with 2 full passes or equivalent with minimum CGPA of 2.0 and completion of SPM or equivalent; or
Successful completion of A-Level with at least a pass in 2 subjects and successful completion of O-Level or equivalent; or
Recognised Matriculation or foundation with CGPA 2.0; or
A qualification that APIIT accepts as equivalent to the above.
All students must demonstrate that they have met the equivalent of IELTS 6.0 either through formal English language assessment or through success in a prior study at "A" level or equivalent in English.
Route 2: Direct Entry to Year 2 Degree
Successful completion of the relevant APIIT Diploma, or
Successful completion of the study in another recognized institution with academic credits equivalent to Year 1 of an honors degree in relevant subjects
Programme outline
Topics you will experience include:
Year 1
Cinema Film Analysis
Issues in World Politics
Making History: Debating the Past
Making History: Local & Global Perspectives
Modern Political Ideas
Philosophy, Life, and Existence
Sustainable Lifestyles & Communities
War, Peace & Cooperation
Year 2
Environmental Policy, Legislation & Regulation
Concepts in International Relations
Dissertation: Preparation Plan
Money, Trade, and Development
Development of the Global System
International Security
Broadcast Journalism and Government
South Asian History, Politics, and Culture
Internship
Year 3
Sustainability, Planning & Environmental Policy
Dissertation in International Relations I
Dissertation in International Relations II
Governance & Global Policy
Conflict and Journalism
The government, Intelligence Agencies, and the 21st Century World
International Communications
Transnational Organised Crime
In addition to the above, all students are required to successfully complete General Studies modules as stipulated by the Malaysian Qualifications Agency, as well as fulfill credit requirements for Co-Curricular Activities.
Graduate Employment
The award equips students with practical and academic skills attractive to employers. These include
independent judgment, self-reflection, and critical debate. Students may choose to use the specialist
knowledge acquired, to work in one of the many international institutions, national foreign or defense
ministries or internationally oriented organizations of many sorts. Graduates will find employment across a
wide range of careers destinations including the education sector, government agencies, local authorities,
political consultancies, or will enter the industrial or commercial sectors. Others will undertake further
postgraduate training across a range of academic and vocational courses.
Last updated Jun 2018
About the School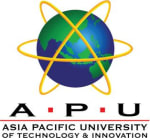 The Asia Pacific Institute of Information Technology offers a range of programmes which are designed to produce highly employable graduates, by providing our students with an internationally benchmark ... Read More
The Asia Pacific Institute of Information Technology offers a range of programmes which are designed to produce highly employable graduates, by providing our students with an internationally benchmarked academic experience closely aligned to industry requirements. As an integral member of the APIIT Education Group – comprising the Asia Pacific University of Technology & Innovation (APU), the Asia Pacific Smart School and the Asia Pacific International School - APIIT has achieved an enviable record of having produced more than 20,000 highly employable graduates through a sound approach of transforming and nurturing school leavers into qualified and highly competitive professionals.
Read less