Program Description
Overview
This programme aims to develop you as a creative animator. The animation route offers the opportunity to specialize in modeling, animation and composite-based applications in the creation of character film-making.
The programme focuses on the many aspects of the fundament animation process and is supported by a series of specialist lecturers, demonstrations and seminars that introduce students to professional, design, and creative process.
Year 1 provides a structure for learning the major principles of animation. You will explore a range of techniques involving 2D and CG elements.
Year 2 involves the development of characters in greater depth. This includes enhancing audio dialogue and body gesture, an introduction to action integration, and advanced lighting and camera work for greater shot composition; as well as model making as a core module with a focus on set building. You will also have the option of studying experimental animation.
In Year 3 you will be expected to produce a series of short animations which display excellent performance-based animation. Emphasis is placed on professional practice in preparation for graduation and greater employment prospects through animation.
Entry Requirements
Entry into the Programme will be via one of the following routes:
Route 1: Entry to Year 1
Successful completion of STPM with 2 full passes or equivalent with minimum CGPA of 2.0 and completion of SPM or equivalent; or,
Successful completion of A-Level with at least a pass in 2 subjects and successful completion of O-Level or equivalent; or
Recognised Matriculation or foundation with CGPA 2.0; or
A qualification that APIIT accepts as equivalent to the above.
All students must demonstrate that they have met the equivalent of IELTS 6.5 either through formal English language assessment or through success in the prior study at "A" level or equivalent in English.
Route 2: Entry to year 2
Successful completion of the relevant APIIT Diploma, or
Successful completion of the study in another recognized institution with academic credits equivalent to Year 1 of an honours degree in relevant subjects
All applicants will be individually assessed via a portfolio, interview including drawing
Programme outline
Topics you will experience include:
Year 1
Animation Fundamentals I
Animation Fundamentals II
Animation Fundamentals III
Animation Fundamentals IV
Applied Timing I
Applied Timing II
Cinema Film Analysis
Sculpture for Animation
Introduction to Graphic Design
Year 2
Animation Debates
Audio, Sound and Score for Animation I
Audio, Sound and Score for Animation II
Character Animation Implementation I
Character Animation Implementation II
Film Shorts & Stings I
Film Shorts & Stings II
From Script to Screen
Creative Practice
Internship
Year 3
Animation Futures
Design Project Report
Final Major signature Projects I
Final Major signature Projects II
Final Major signature Projects III
Individual Animation Project I
Individual Animation Project II
In addition to the above, all students are also required to successfully complete four (4) General Studies modules as stipulated by the Malaysian Qualifications Agency, as well as fulfill credit requirements for Co-Curricular Activities.
Graduate Employment
During your time on the Animation programmes, you are encouraged to form industry contacts through working on collaborative projects, live client-based briefs, attending and participating in film and animation festivals.
Whilst on the programme you will be encouraged to produce work that is of a standard to be screened at international events allowing for exposure to the wider animation community and potential employers. The animation programmes are well represented at annual film and animation festivals and competitions, both national and international.
Many Staffordshire University graduates in the UK have gone onto be employed by international studios, notably: Aardman Feature Animation, Mackinnon, and Saunders, Cosgrove Hall Films, Chapman Entertainment Studios, Ragdoll Productions, Oktober Animation, Cinesite, Double Negative, Rushes Postproduction, ITV Studios, and Cubic Motion. Others have gained work experience with Granada Studios, Barry Purves, and other independent studios
Last updated Jun 2018
About the School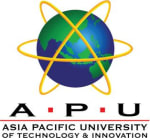 The Asia Pacific Institute of Information Technology offers a range of programmes which are designed to produce highly employable graduates, by providing our students with an internationally benchmark ... Read More
The Asia Pacific Institute of Information Technology offers a range of programmes which are designed to produce highly employable graduates, by providing our students with an internationally benchmarked academic experience closely aligned to industry requirements. As an integral member of the APIIT Education Group – comprising the Asia Pacific University of Technology & Innovation (APU), the Asia Pacific Smart School and the Asia Pacific International School - APIIT has achieved an enviable record of having produced more than 20,000 highly employable graduates through a sound approach of transforming and nurturing school leavers into qualified and highly competitive professionals.
Read less